History
USS RALEIGH LPD 1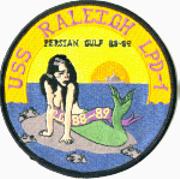 Humanitarian Service



20-JUN-1976
Meritorious Unit Citation


16-SEP-1970 02-OCT-1970
Navy Unit Citation



26-APR-1965 30-APR-1965
14-FEB-1983 30-MAY-1983
Southwest Asia Service



08-SEP-1990 14-MAR-1991
Armed Forces Expeditionary
7-24-87 8-1-90


SecNav Letter of Commendation
01-AUG-1987 24-NOV-1987

Letter of Commendation
27-SEP-1987 15-OCT-1987
USS Raleigh Named for
The capital of North Carolina which honors the English explorer Sir
Walter Raleigh, the first to attempt the establishment of
an English settlement in North America.
(LPD-1: dp. 13,600 (f.); l. 522'; b. 100'; dr. 23'; s. 20 k.; cpl. 490;
a. 8 3"/50; cl. Raleigh)
The fourth Raleigh (LPD-1), an amphibious transport dock, was laid down
by the New York Naval Shipyard, Brooklyn,
N.Y., 23 June 1960; launched 17 March 1962; sponsored bv Mrs. Terrv
Sanford, wife of the Governor of North Carofma;
and commissioned 8 September 1962, Capt. A. W. Whitney in command.
After fitting out through mid-December, Raleigh steamed to to Norfolk,
VA., for the holiday season. Im January 1963 she
steamed for shakedown to Guantanamo Bay, Cuba, but returned to the
building yard in late February for correction of design
defeficiencies in her aviation gasoline system. Returning to Guantanamo
in April, she completed shakedown, then assisted
Commander, Amphibious Force, Atlantic in hosting the Navy League
national convention in San Juan, P.R.
Returning to Norfolk 1 June, Raleigh completed a week's amphibious
training at Little Creek and then deployed to the
Caribbean in July with Amphibious Squadron 8. Raleigh proved herself
during this dedlovment by simultaneously landing
troops and equipment by means of boats and amphibious vehicles from her
well and by helicopters from her flight deck.
During th is cruise she made one trip to Haiti as tension there rose.
Raleigh returned to Norfolk 1 October and then underwent post-shakedown
availability at New York 7 January 1964 through
13 March. During the spring she conducted amphibious training operations
off Onslow Beach, N.C. Steaming for Europe 12
October, Raleigh arrived off the coast of Spain and took part in
Operation "Steel Pike." She then called at Oporto, Portugal,
and Vigo, Spain, before returning to Norfolk 27 November. After a yard
period at the U.S. Naval Shipyard , Portsmouth, Va.,
she deployed to the Caribbean 1 April 1965 with the Amphibious Ready
Squadron. From 25 April through 6 June, she
operated off the Dominican Republic, evacuating 558 refugees who were
later transferred to Yancey (LKA-93) for transit to
San Juan. For her part in the endeavor Raleigh and her crew received the
Armed Forces Expeditionary Medal. She returned
to Norfolk 29 June.
After upkeep and coastal training operations, Raleigh steamed for
northern Europe 27 August to participate in "Bar Frost
65," a NATO amphibious exercise featuring a landing in Norway's fjords
north of the Arctic Circle. Returning to Norfolk 23
October, she underwent a yard period through 4 April 1966 and then
steamed for refresher training at Guantanamo Bay.
Raleigh's deployments to the Caribbean from Norfolk as a unit of the
Amphibious Ready Squadron averaged two per year up
until 1970. In July of that year, she began the first of a series of
Mediterranean cruises and has averaged one a year into 1974.

Command History of USS Raleigh (LPD-1), 1 January 1965 to 31 December
1965, extract.
1 April 1965, RALEIGH deployed to the Caribbean as part of the Caribbean
Amphibious Ready Squadron TEN. From 25 April - 6
June RALEIGH was engaged in operations off Dominican Republic including
the evacuation of 558 civilian refugees who were later
transferred to the USS YANCEY (AKA-93) for delivery to San Juan, P. R.
[Puerto Rico]. For her part in the action, RALEIGH and
her crew were awarded the U.S. Armed Forces Expeditionary Medal. During
this period, RALEIGH enjoyed liberty at San Juan on
two occasions and once at St. Thomas, Virgin Islands. RALEIGH returned
to Norfolk on 29 June 1965.
Source: Ships History Branch files, Naval Historical Center. This
extract from Raleigh's 1965 command history includes the entire
section relating to the Dominican Republic.
RALEIGH PARTICIPATING IN DESERT SHIELD/STORM
The USS Raleigh cruise book (USN ships often produce one) for Operations Desert Shield/Desert Storm has it that the ship completed the operation on 17 April 1991. She left North Carolina (Morehead City) in August of 1990 (personal info: I was on her). The ship's CO was Capt Richard J McCarthy, the XO was Lt Cmdr Robert Baker, and the CMC was Ronald G Crittenden. The assigned LCU was LCU-1663. Embarked Marine units included the command staff of 1st Bn, 10th Marines, the command staff of 3rd Bn, 2d Marines, and significant combat elements that included combat engineers, LAADs, AAVs, TOWs, tanks of 2nd Tk Bn, and I Btry 10th Marines, among others. The Raleigh transited the Suez Canal in late August or early September. The initial watch was to stay in the North Arabian Sea. A number of exercises were held in Oman under the name Sea Soldier, that involved her. Subsequently, she supported mine countermeasures missions operations off Kuwait City, and used six AH-1W Sea Cobra attack helicopters in CAP missions.
Crew Member History Contributions
by Dan Turygan mullican@dandy.net
1963 to 64 she was in Amphb squad eight and deployed to Haiti. Deployed to Caribbean Jan to April 65, Nov 66 to May 67, Dec 67 to May 68, July to Nov 68, Feb to April 69. In 65
she was in operation quick kick, evacuated americans in the Dominican crisis. Which I believe was one of her awards. August 65 was in Nato op Bar Frost,April 66 aided fire on SS Viking Princess. June 1971 deployed with NATO . Oct 1968 was in Aruba. Med cruise began July 70.
Second med summer of 72. Now for my personal knowledge, she never made Nam but her sister Vancouver did.
She arrived back from the Med in Fall 72 and went to Bermuda just before Christmas in 72. Returned to Norfolk and entered Norship yards Norfolk in the winter of 73.
That's when I arrived on board in beautiful Berkley Virginia. She left the yards I think in June and while I went TAD to Newport she went to GITMO. She arrived back in Norva I think in August 73. Stayed tied up to the pier (5?) till Nov 73 then we deployed to the Med. Came back to Little Creek
May of 74. I left again but we entered the Norship yards again in summer of 74 I then deployed to the RE Byrd. Problems occurred and we then went to Baltimore yards. Stayed there in the fall of 74 and then went to the yards again in Quincy Mass December of 74.
I left again to the NKPerry in Fall River and that was the last I saw of her till much later when I was on the Hawkins. Awards I believe were National Defense, Unit Citation, and one for the Dominican crisis. When I left she also won the Gold C (us) and the Green O. Never saw any red E on that baby. Hope
this helps in your noble endeavor. Her CO in 72 till Nov 73 was Captain Robert E Crispin. CO in 73 and 74 was Captain Eugene Geronime ( a real gentleman) XO in 73 and 74 was LCDR Brandquist

A Concise log of significant events from July 62 to Sep 62 provided by Bert Tovrog, FTG2
Bert Tovrog FTG2
BToovrog@cs.com
Wheeling, IL
Originally from Chicago, IL, I now reside in a north west Chicago
suburb. I was originally on the USS Galveston CLG-3, that had
received orders to transfer from the Philadelphia, PA ship yards
to the west coast for Viet Nam duty, 18 Jun 62. We were given
the option to remain on the east coast and I requested to stay.
I probably have the most concise summary of the LPD-1's
activities. So please bear with me on this. It is long! At the end of
this "journey" I have added some additional items that do not
have any dates. So, get a cup of coffee now.
This began a tour with the USS Raleigh as FTG3. I am a plank
owner. 16 Jul 62 reported to the Receiving Station, Norfolk, VA
and assigned to Barracks N.
The enlisted crew attended the various schools in preparation for
LPD-1's launch later on:
24 Jul 62 ABC Defense
30 Jul 62 Fire Fighting
6 Aug 62 Basic Damage Control
I attended (ordnance) Fire Control "C" schools for the two gun fire
control systems, MK 56 and MK 70 during Aug 62, at Dam Neck,
VA.
The Fire Control Technicians were a part of the "Gun Gang,"
(Gunners Mates)
3rd Division:
Dennis Dangler (TX) FTG2, Supervisor, later FTG1 and
transfered.
Bert Tovrog (IL) FTG3, later FTG2, Supervisor.
Raymond Schultes (NJ) FTG3
Robert Gadd (MS) FTG3
Bates, (?) FTGSN
Chief Hall (?) GMGC, Chief of F3 Div.
LTJG Gilbert P. Mahla, (?) Gunnery Officer, later LT
ENS Smith (?) Asst. Gunnery Officer
(Unfortunately I do not remember all of the Gunners Mates names
- sorry. They were the best!)
8 Sep 62 LPD-1 commissioned at Brooklyn Navy Yard. General
Shupe USMC speaker. Capt. Alden W. Whitney, Captain, CDR.
A.B. Manring, Executive Officer.
31 Oct 62 Sea trials off NY coast. 2 Nov 62 returned. No gunnery
exercise, no speed run test.
17 Nov 62 Sea trials (again) off Cape Cod. Gun Boss LTJG
Mahla gave the firing command. Nothing happened. Ammo was
a dud. No shoot this time. 19 Nov 62 returned to Brooklyn.
3 Dec 62 Sea trials off VA. Ran in to heavy storm. Most of the
crew got sick - even the old timers! 5 Dec 62 returned to
Brooklyn.
22 Dec 62 Departed Brooklyn for home port of Norfolk, VA.
Stopped at Earle, NJ ammo dump, a mile out, to load all ammo.
(Bitter sub zero cold and wind. If you take off your boots, the feet
swell and boots cannot be put on again.)
22 Jan 63 Departed Norfolk for Guantamo Bay, Cuba (Gitmo).
27 Jan 63 pulled in to St. Thomas, VI.
1 Feb 63 pulled in to Gitmo, at anchorage.
6 Feb 63 starboard shaft trouble. Returned to Brooklyn Navy Yard
doing 5 knots all the way back on the port screw.
16 Apr 63 Departed Norfolk for Gitmo shake down training.
Mid May 63 Steamed to Haiti twice due to problems with the
Dominican Republic. On station at Condition 3.
28 May 63 Departed Gitmo for Norfolk and had a gunnery firing
Operational Readiness Inspection (ORI) enroute. Early Jun63
arrived Norfolk.
9 Jul 63 Departed Norfolk for PGIBULEX 3-63 in the Caribbean
area.
26 Jul 63 Arrived Ponce, PR for 3 days of liberty.
2 Aug 63 Arrived San Juan, PR for 3 day liberty tied up at the
dock. The civilians rioted and tried to board the ship. Repell
Boarders was sounded and we only used fire hoses to fight them
off. They did fire at us (no injuries) and they tried to cut the
mooring lines and shimmy up the lines as well. Adm. Mc Cain
was in a command ship and was docked forward of us.
4 Aug departed San Juan before hurricane Arelene hit. Had to
make a "high speed" run to backload troops off Vieques Island,
Winward Passage.
6 Aug 63 Arrieved at Haiti on station for 3 days at GQ with
combat ready troops.
10 Aug 63 Arrived and departed Gitmo.
6 Sep 63 Arrived St. Croix, VI. Departed 9 Sep 63.
14 Sep 63 Anchored of Vieques Island and used an LCM6 boat
to get to shore for a beach party. Duarte, BT3, swam too close to
the LCM6's screws and was killed.
24 Sep 63 Departed San Juan, PR.
27 Sep 63 Backloaded troops in preparation for hurricane Edith
and departed for Norfolk. 1 Oct 63 docked at Pier 1.
1 Jan 64 New Years. Who set off all the flares late New Years'
eve????
9 Mar 64 Departed Brooklyn for sea trials off VA. LPD-1
received a "restricted capability" rating.
13 Mar 64 Departed Brooklyn for Norfolk. 14 Mar 64 arrived
Norfolk and at the ammunition anchorage.
24 Mar 64 Departed Norfolk for New London, CT and Anti
Submarine Warfare (ASW) operations. We were the target ship
for the sub's torpedo firing exercises. (The torpedoes were
suppose to pass at lease 20 feet under the keel.) We did lots of
figure eights, rectangles and circles. I was well below decks
requisitioning some parts from a store room on the port side,
when a torpedo penetrated the hull about six feet from where I
was standing. Water began to enter but not too fast, at first. The
torpedo was wedged in solid with 3 feet of it in the ship.
Someone threw down a couple of damage control bags full off
goodies and sealed the hatch! There were four of us working like
hell to seal the leaks. If that torpedo would have backed out, I
would not be boring you with all of these details. When we finally
stopped the water intrusion there was only 24 inches of air space
left. When we got out we were naked. Our clothing helped save
the day and our 4 asses. I was later told that the ship did not stop
but continued runing the patterns. Thank you Captain!
25 Mar 64 Sighted 2 Russian trawlers
26 Mar 64 SS San Jancinto, a merchant oiler, split in two due to
a fume explosion at 0300. LPD-1 packed our Doctor on a boat
and sent him off to help a strickened sailor with a medical
condition - who died of a heart attack. LPD-1 did not effect a
rescue, but later left that to the Coast Guard and the salvage tugs.
LPD-1 departed for Norfolk.
4 Apr 64 Departed Norfolk for Morehead City, NC on operation
Quick Kick V. Arrived 5 Apr 64 and loaded 900 Marines and all
their truck, tanks and etc.
10 Apr 64 Almost rammed by an LST while making a turn in
formation. LST turned the wrong way! I was on the port bridge
wing and actually touched the LST like I could push it away. As
the two ships closed a geiser of water shot up about 100 feet in
to the air. I was pushed back and drenched. And when was the
collision alarm sounded? AFTER the ships parted! 16 Apr 64
returned to Norfolk.
27 Apr 64 Departed Norfolk on a Joint Civilian Orientation Cruise
to Onslo Beach, NC
1 May 64 Had an amphibious landing complete with jet aircraft
making bombing runs and etc. Very exciting. 2 May 64 returned
to Norfolk.
12 May 64 Conducted a gunnery shoot of VA Capes and scored
a few hits.
14 May 64 USS Okinowa LPH-3, administered our gunnery ORI
and we received a "very good!"
18 May 64 Departed fro Onslo Beach, NC. 22 May 64 Returned
to Norfolk.
15 Jun 64 Departed Norfolk for Venezuela.
17-18 Jun 64 Commenced standing Condition III watches in MK
56 Gun Fire Control System (GFCS) space,(across the
passageway from the Combat Information Center (CIC), on the
starboard side, aft of the Captain's sea going quarters. The
bridge was forward of the Captain's quarters) with 3"/50 dual gun
mounts # 31 (Walter Brewer, GMG2)& 32 (?), manned and ready
as we passed the southern side of Cuba. Tovrog, Gadd and
Schultes rotated 2 man radar consol control watches while the
3rd man slept behind the computer, on the deck. Gun crews also
rotated their watches while in their mounts. Capt. W. did not like
the Gunners Mates sleeping in their gun mount areas, since he
could look directly down on them from the bridge. He went nuts
when they would smoke, so they moved out of sight. Cuba was
nice and quiet on that run.
19-20 Jun 64 Held small arms practice on the Flight Deck for the
Landing Party, Petty Officers of the Watch and the Gun Gang.
Everyone fired the 45 auto, M-1 rifle and the Thompsom
Submachine gun. Later we broke out the Browning Automatic
Rifle (Ray Schultes would not turn it loose. He loved it.) and the
30 cal, bipod mounted machine gun. There was a Marine
Captain who was shooting bulls eyes from 50 feet with the 45
auto! Wow! The Flight Deck was all torn up. The Air Gang was
not too happy since they had to grind the Fight Deck down and
repaint it.
22 Jun 64 Arrived Las Salinas, Venezuela for the back loading of
some high speed gun boats. (Millions of oil fields all around.) Set
the Sneak Attack Watch and put out a 40 foot utility boat as a
picket patrol boat for security measures. (All the Gun Gang
rotated with the weapons duty, plus a cox'sun, signalman, Officer
and a couple of additional men. Ray Schultes fell aboard ship
and was taken ashore for some major dental work. The trip was
an adventure he will never forget.) The world's largest American
Flag was flown down the side of the ship. 23 Jun 64 Departed
Las Salinas, without incident, for liberty in Santo Domingo,
Dominican Republic.
25 Jun 64 Raleigh personnel created an international incident
ashore by fighting and tearing apart a hospital, with rumors they
were chasing women. We heard "sea stories" that some women
were caught, but this was "unofficial."
1 Jul 64 Arrived Norfolk Naval Ship Yard to off load boats.
13 Jul 64 Departed Norfolk on a Midshipman cruise off Camp
Pendleton, VA. 22 Jul 64 Returned to Norfolk.
24 July 64 Captain Edward W. Miller relieved Captain Alden W.
Whitney (Thank G-d)in ceremonies held in the Upper Vehicle
Storage area.
3 Aug64 Departed Norfold for TRAMID Exercise with
Midshipmen, off Camp Pendleton, VA.
3-31 Aug 64 On operations each week with liberty on the
weekends.
31 Aug 64 Gun shoot was postponed indefinately. 3rd Divison
angry.
8 Sep 64 Raleigh's 2nd birthday. Pulled in to Norfolk Naval Ship
Yard, Portsmouth, VA.
9-10 Sep 64 Gun Gang members aboard USS Okinawa LPH-3
to observe their ORI and gun shoot.
12-13 Sep 64 High winds and heavy rains from a hurricane
lashed Raleigh while tied up to the dock at Norfolk Naval Ship
Yard. Prepared to get underway if necessary. Water was rising
fast and deck crew was letting out the mooring lines several
times. Wind was blowing from port side, pushing Raleigh in to the
dock. There was fear that the ship would wind up on top of the
dock and tumble over. Port Control issued the order to get
underway. We normally had a 3 section duty, but because we
were docked in port, we changed to 4 section duty so the most
men could have liberty. Everybody was standing by for somebody
else, or so we thought. There was no Captain or Executive
Officer aboard. If I'm not mistaken, the highest ranking officer was
a LTJG! PO2's, although few in number were the highest ranking
Petty Officers. There were mostly SN's and a few PO3's. I figured
out that there was only about 2/3 of the 4th duty section on board!
Without a tug, we got underway and barely navigated through the
Cheaspeake Bay Tunnel Bridge and headed out to sea. I turned
the forward #31 and 32 gun mounts aft and the aft #33 and 34
gun mounts forward to minimize the wind resistance and they
were locked down. Topside an un-named officer asked how we
could go to general quarters and use the guns since they were
"locked" in place. He ordered me to get them ready for action. I
told him all topside spaces are off limits to all personnel and if he
doesn't get below there is a good chance he could get blown
overboard. I left him standing there and dogged the hatch behind
me. I waited until I heard the rapid pounding on the hatch before I
opened it. Mr. X was as white as a sheet. When I asked if there
were any enemy targets, he didn't answer me and while leaning
against the bulkhead, slid down and sat on the deck. Raleigh was
doing what she did best - Rock and Roll, all over the place. The
ship registered a 40 degree list at one time. While we were
returning to port, still outside the Bay Tunnel, Capt. M. on a speed
boat met the Raleigh. We slowly lowered the gangway due to
fouled lines and he came aboard while on the fly, doing under 10
knots. He was all dressed up nice and pretty. We looked like hell
and he wanted us in whites. We stayed in the working uniform.
He wanted all hands on deck and he got a few, not many.
Someone had to run the engines and steer the ship. He said he
wanted ALL HANDS. Some one piped up, "here we are" and he
too turned white, just a few feet from me. When we docked at our
original berth, with a tug, there was an Admiral, among others,
waiting to "greet" us and the Captain. The Admiral was piped
aboard. He spotted two SN's in whites and asked them how
come? They said it was the Captain's orders. He told them they
were out of uniform then he and the Captain walked inside.
29 Sep 64 I was separated from the Raleigh. There was a crowd
at the Quarter Deck for some reason. I requested permission to
depart the ship. I heard the bell struck 2 times and over the P.A.
system I heard, "Tovrog departing." Following that as I started
down the gangway, I heard a familiar bellow, "who did that?"
Then there were cheers and applause. I NEVER looked back.
OK the good stuff. No names, no dates (to protect my shipmates.
You know who you are):
Before commissioning, numerous visits were made to the LPD-2
to borrow various items.
Cans of coffee and cartons of Pall Mall's were used as barter and
trade with the yard birds for "special" services and other "things."
Crew members were known to string armored cable through the
ship for special use.
Of course no liquour was allowed aboard the Raleigh. And none
was found.
OK who stole the thermite grenades from the storage locker
between gun mounts #33 and 34. The ship was locked down and
a thorough search made EVERYWHERE. I believe the FBI was
called in. The grenades were never found. Seems that safe
crackers use the stuff to crack safes. It wasn't me and I don't
know who. Most of us didn't even know we had this stuff, not even
Chief Hall!
Steaming off Haiti, someone was lobbing
cans of food over the side and telling a LTJG that the Haitians
were shooting at us.
When out on sea trials, while doing about 5 knots, the crane
started to lower the Captain's (all fibreglass) Gig when the
mounting eyes from the boat let loose and the gig dropped about
30 feet in to the drink. They found it later and used slings to winch
it aboard. Anybody have any glue?
We put the crane to good use and caught a BIG shark and
winched it aboard. We ate it for a couple of days.
Also, we lowered the lower dock door and captured and big fish
for another meal.
Speaking about food, we had the WORST grub of any ship in the
Fleet. We were the only ones who had excess monies turned
back. Grub was so bad the OOD's would refuse to eat the crew's
food. Someone told the doctor about it, but even he wimped out.
We were buying candy bars by the ton. This stuff was GROSS.
One day, we recieved a new cook aboard. His last duty station
was the WHITE HOUSE, WASHINGTON, D.C. This was an
answer to our prayers. He even served the food himself. And you
could get seconds! The officers wanted him, but could not get
him. He was the most popular man aboard! The only guy that
cared about the crew. Oh, happy days.
While south of the border, a bunch of sailors were sleeping in an
unauthorized air conditioned equipment space. It got too cold so
someone turned off the air conditioning. Unfortunately, the
controller also controlled the Captain's sea quarters. He got hot -
literally, and a dozen guys wound up mustered on the bridge, at
attention, for a long time while Capt. W ranted and raved. The
slaves were orderd back to the hole. The temperature was over
105 degrees. Then coincidently, unusual circumstances required
that this air conditioned equipment space have the air
conditioning turned off, per a requirement of one of the Navy
bureaus, to prevent contamination of some electronic equipment
when the covers are removed for maintenance, adjustment or
repairs. And for some strange reason, this delicate equipment
would need frequent adjustment, I was told. Many times the
technicians would have to work through the night to ensure the
Raleigh's operational readiness. And they did! Someone told me
that during a Navy Yard repair session, Capt. W had a new air
conditioning system installed.
There was talk that a carbine was somewhere on the ship - not in
the Armory. It was claimed to have been brought aboard by the
Marines. For months some men searched high and low but never
found it.
OK who was drilling a small hole in the bottom of the coffee cups
and filling the hole with wax?
Which 2 junior officers use to take the 45 autos apart while on the
Quarter Deck, late at night? Not once but several times!
In Brooklyn, who was it that packed his sea bag ("to buy some
clothing") and went across the pier to board the USS Lexington,
just before she set sail to be apart of the Cuban blockade? And
what did Capt. W. have to say about that when he returned?
During the Cuban Blockade, who challenged Capt. W. returning
to the Raleigh at 0200 from the Officer's Club without his I.D. card
and threatened to shoot him if he attempted to board the ship?
After the highline transfer of a "very popular" Chief to another
ship, when his brand spanking new plywood sea chest was half
way across with all his belongings and treasures, someone yelled
"BREAKAWAY" and the line was cut in the interest of safety. We
think it sunk immediately upon hitting the water.
While slowly navigating the Windward Passage, the aft lookout
reported seeing a whale. A while later when asked about the
whale, he reported it was still there. We all know this guy was a
few cards short of a full deck. Later the whale was still there. This
time the whale was getting closer. It was a sub following us!
A civilian commuter choppper went down in the river while we
were in the Brooklyn yards and the Raleigh rescued the
passengers and crew. Good job.
While in dry dock, a disurbed SN on the mess decks was
carrying an open case of catsup. He threw it up, hitting the
overhead and ran forward to the bow and jumped overboard. The
dock was dry until he splattered himself all over.
What Gunners Mate would paint the side of the ship near the gun
mounts with a chair tied to the gun barrel and have someone
move the gun mount back and forth, up and down until the job
was done?
In Brooklyn a fire broke out on a large aircraft carrier (USS
Constalation, maybe ?) under construction. All ships were
sending men to fight the fires - EXCEPT the Raleigh! Civilian fire
fighters were coming in, ship yard personnel were helping and
New York fire boats were pumping away at the blaze. Several
Raleigh sailors went on liberty rather quickly, taking hoses,
oxygen breathing apparatus, cans of foam, lanterns and anything
else not nailed down. We were there somewhere between 18 to
24 hours before we returned to the Raleigh. Thank G-d, none of
our crew were injured. We tended hoses, brought out burnt and
crispy bodies and went back for more. It was said that 200 men
perished. And the Red Cross (the bastards) had their canteen
truck there charging for coffee and sweet rolls. How many men
does it take to accidently knock over a step van? Then to top it
off, we were late coming off liberty! And we were not in our dress
uniforms! And some equipment was "stolen." My G-d, what is this
world coming to? Can't trust anyone. Better count the silverware
too Capt. W.
Maybe sinking the Raleigh was a proper burial after all. How
unfortunate that the bad memories did not die with her. You know,
I don't have too many good memories about her. The crew was
great. It was us against "them." The ONLY EXCEPTION was LT
Gilbert P. Mahla, Gun Boss. We would have gone to hell and
back for him. All the others could have gone down with the ship
and it would have not been a great loss.
I only hope that the men of Raleigh who sailed aboard her after
29 Sep 64, had good officers in command who had the respect,
loyalty and admiration of the crew. Please feel free to let me
know.
-Bert Tovrog, FTG2- 4-6-02
Raleigh was used during Operation Earnest Will, in the "Gulf " to provide a escort to oil tankers. The Raleigh was also used to support Minesweeping operations. At one point the Raleigh was the most powerful ship in the Persian Gulf. Helicopters from her flight deck caught an Iranian AJR placing mines in shipping lanes. It seemed every night we were there something was going on!
She's gone now, and the Ops the Raleigh supported may never be public knowledge. There are times I miss the Adrenaline standing on "Spot Two " the turbulent air of a helicopter hovering,just over head,and the "non skid" under my boots!
ABH W.S. Mousley 7-23-02
Raleigh lost her stern gate at sea, and the Captain lost his command because of it. This happened in the 1981 - 1982 time frame. We went to the shipyard in Philly, PA. The stern gate was torn off in a storm.I think the Captains name was O'Brian.

Daniel Scism 5/21/06

During the Summer of 1971, the Raleigh embarked Midshipman from the USNA for a NATO/Training deployment to the North Atlantic. Ports of Call were Lisbon, Portugal, Portsmouth, England and Copenhagen, Denmark. Returning to Norfolk, the Raleigh upgraded and refitted for her next deployment to the Med in February, 1972. During that deployment, the Raleigh and her Marines participated in a number of amphibious landing operations with British, Greek and Italian Naval Units. Returning to CONUS (Continental United States) in August, 1972, the Raleigh participated in several "transportation" deployments to various Naval Bases on the East Coast before her entry to the Berkley Shipyards in Norfolk, VA. for overhaul. Raleigh departed Berkely and went through refresher training at Guantanamo Bay in the Spring of 1973. However a boiler casualty in #2 Engine Room forced her return to Norfolk. During transit from Cuba to Norfolk, the Raleigh was harassed by Cuban and Soviet aircraft for several days. During the late fall of 1973, Captain Eugene Geronime relieved Captain Robert Crispin. In November of that year Raleigh deployed again to the Mediterranean, this time to link up with the Marine Amphibious Group sortied at Souda Bay, Crete. The combined Groups saw the largest Marine Force ever assembled in the Med up to that time. This was in response to the 1973 Arab-Israeli War in October. Following the cease fire, the Raleigh maintained station in the Eastern Med to prevent Soviet expansion in that area. Raleigh returned to Little Creek, VA.,in June 1974. for one of the biggest homecomings the ship ever received.

Provided by Syl Mason Served May '71 to July '74
During the Summer of 1974, Raleigh prepared for an extensive overhaul in Baltimore, MD, and following its first phase, she ran aground in Chesapeake Bay and returned to her homeport in Norfolk. During her second phase in the General Dynamics Shipyard in Quincy, MA, an unfortunate fire further disrupted her return to the Fleet. Captain Geronime was relieved on April 18, 1975 by Captain John McIntyre who took her through an extended shakedown and two overseas deployments, including the evacuation of Americans from Beirut in May, 1976, for which the ship and crew received the Humanitarian Service Medal. During the standup for the evacuation, Raleigh spent 105 consecutive days at sea in the Eastern Mediterranean in early 1976. Later that year, she participated in a Northern Europe amphibious demonstration deployment to Norway, after which Captain McIntyre and crew were feted upon their return to their Norfolk home port following almost two years of extensive operations.